Foundations Christian Preschool is an exceptional preschool program offering challenging academics in a Christian environment. Every child needs to develop the essential skills necessary to build a solid educational foundation.
Foundations Christian Preschool students are given the opportunity to develop a proficiency in letters and numbers that will set the stage for future learning.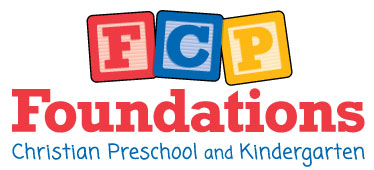 Everything we do is designed to build a positive and enjoyable learning environment. Our goal is to provide students with the tools to help them succeed in school. Our kind and compassionate teachers are at the heart of this ministry. They love God, love people, and are committed to helping young children develop the educational and spiritual foundation necessary for future success. They also patiently provide personal attention and encouragement to each child.
We provide the convenience and security of a quality before-school and after-school program that gives opportunities for enrichment and enjoyable activities from 6:30 A.M. to 6:00 P.M.
Overview of Programs
K3– Our K3 program is designed to ease your child into a school setting. Our K3 teachers mix learning with fun and teach through songs, crafts, activities, and stories. Children will learn to count, recognize numbers and letters, and learn the basic calendar. They also learn basic school manners like sitting in their seats, raising their hand, sharing with friends, and being obedient. K3 has many options- 2 day, 3 day, 5 day, half, and full day.
K4 – This program is a great way for children to prepare for Kindergarten! K4 students will work on letters and sounds, and be reading blends and words by the end of the year. They learn to count to 100, recognize numbers, and use math manipulatives to learn in a hands-on way. They practice correct letter formation, skills like coloring, tracing, and cutting, and number writing. K4 also has many options- 2 day, 3 day, 5 day, half, and full day.
Request More Information
Should you desire more information than is available on our school's website, please Request More Information and our Admissions Office will contact you. If you have not already done so, please consider making an appointment to visit. We would very much like to meet you and encourage you to tour our school and campus.
How to Apply
We encourage families to apply online as it simplifies submission and provides parents the ability to track the status of their child's application.
To begin the Online Application process, Create an Account.
Upon account creation, you will receive an email containing a verification link. Once your email address has been verified, log in to your account and Create A New Student Application for your child. You will then have the flexibility to log in and out of your account and access your open application.
After submitting the application, you will be able to track your admissions status at the school by logging in to your account. In addition, you will be able to print the completed application, monitor when the school receives any applicable supplemental forms and, if necessary, reprint the forms.
We appreciate your interest and hope to assist you any way we can. If you have any questions, please feel free to contact us at 215-368-1100.
Calvary Baptist School is a private school offering a challenging educational program in a nurturing Christian environment. The purpose of CBS is to develop godliness of character and action in the lives of our students. We desire to be an extension of Christian homes and to reinforce the Biblical values taught at church and home. Calvary Baptist School admits students of any race, color, and national or ethnic origin.